​Thrive With Us
That's why Downtown Inc has partnered with PNC for a series of VIRTUAL workshops that help merchants keep up to date on best practices for customer service, social media and more. Thanks to the support of PNC, the BLOOM Business Series Workshops are FREE and open to the public, though pre-registration is required. While geared toward downtown businesses, anyone is welcome to attend.
Thank You to Our Sponsor
Thank you to our presenting sponsor, PNC Bank! Downtown Inc also thanks the business community for its support of this workshop series.
Upcoming Virtual Bloom Business Series Webinars
 Stay tuned for our 2024 schedule!
Past Workshops
Missed a workshop? Don't sweat it! You can access all the exciting workshop content here.
November: Looking Ahead to 2024
This webinar discussed just some of the events coming to York in 2024 and how you can tap into a larger audience by engaging with event organizers. Panelists for this webinar includeD Kate Harmon, Working Progress, Megan Kreiser, Assistant Vice President, Events, and Megan Whittle, Events Manager, both with the York County Economic Alliance.
October: Best Practices for Destination Marketing on a Shoestring Budget
This webinar featured practical tips and concrete examples of destination marketing strategies whether your budget is $0, $500, or $5,000. Panelists for this webinar were Kaitie Burger, Destination Strategy Director with Madden Media, and Hannah Beard, Marketing and Merchant Engagement Manager with Downtown Inc.
Check out Kaitie Burger's, Madden Media, powerpoint here!
Check out Downtown Inc's, powerpoint here!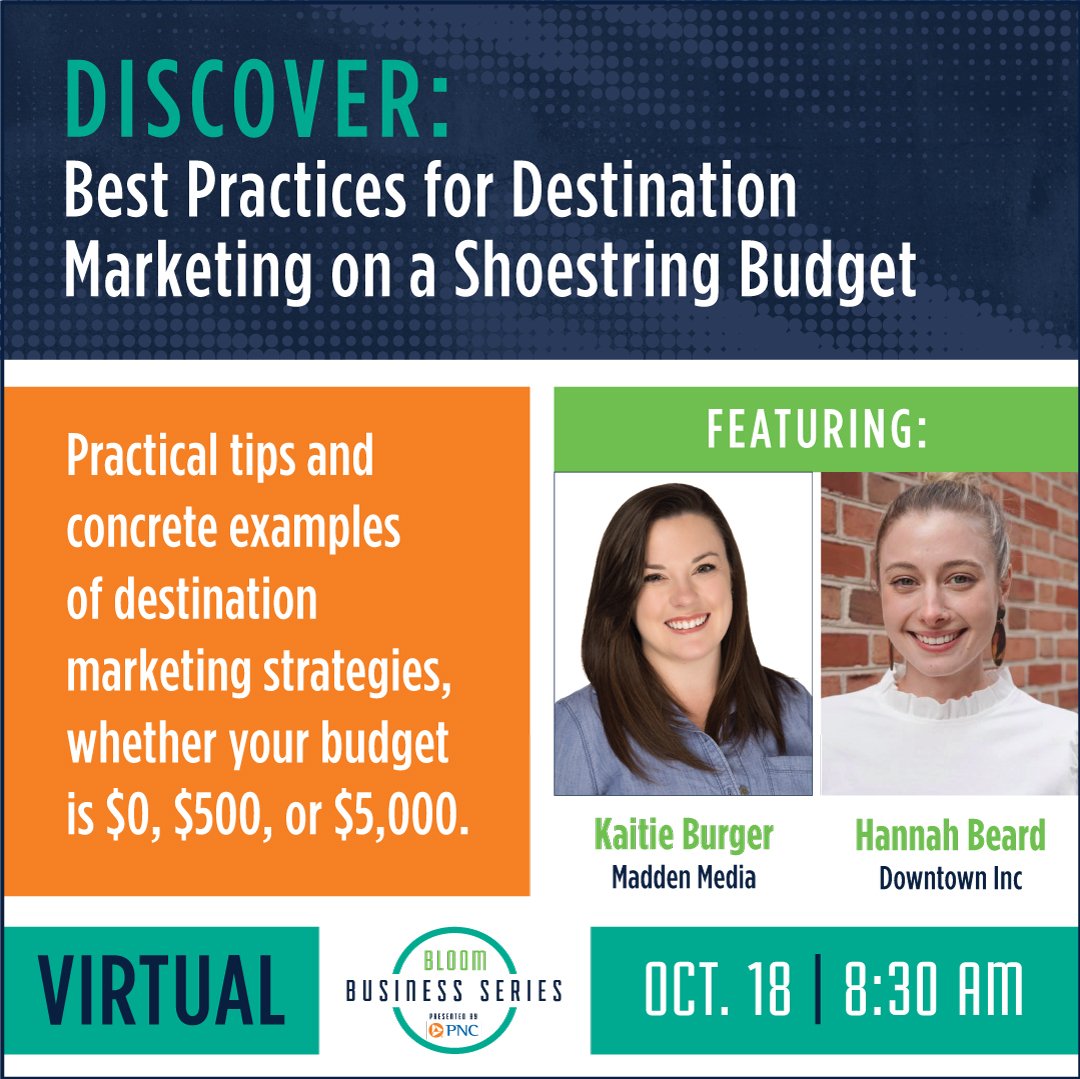 September: Minority Enterprise Business Week
This webinar featured information on Downtown Inc resources and group promotions, such as Small Business aturday and other This webinar featured information on how to secure Minority Enterprise Business and Women-Owned Business certifications, national funding programs, and funding opportunities from our own BLOOM Business Empowerment Center. Speakers included Alea Bunch, Director of MBE Services, Eastern Minority Supplier Development Council, Anthony R. Moore II, COO·Four Squares Development/Four Squares Construction, Kim Stout, Economic Development Specialist, U.S. Small Business Administration, and Joe Wilson, Minority Business Development Officer, PNC Bank.
August: Preparing for the Seasonal Shopping Rush
This webinar featured information on Downtown Inc resources and group promotions, such as Small Business aturday and other cross-promotional opportunities built around community events, as well as informed business owners how to set their business up for success through a buy holiday season. Panelists for the webinar included Zarah Brooks, owner of Indigo Bleu, Alexandria Keener Hammond, owner of My Girlfriend's Wardrobe and Preston & Jayne, and Ashley Zimmerman, Director of Development & Sustainability, Northern Central Railway of York.
June: How BLOOM Can Help Your Small Business
The June BLOOM Business Series Webinar: How BLOOM Can Help Your Small Business, provided attendees with information on the BLOOM Empowerment Center's services, trainings, and funding opportunities. Viewers also learned about PNC's tools for women- and minority-owned businesses. Panelists included Susan Lopez, Business Banking Relationship Manager, PNC Bank, Pierra Jamison, Owner, Au Naturale Luxe Day Spa, Ronalda Sedeno, Owner, Realize the Greatness, and Mica Simone, Owner, Insatiable Melanin.
May: Being a Good Neighbor: Merchant & Property Owner Responsibilities
The May BLOOM Business Series Webinar: Being a Good Neighbor provided attendees with information regarding merchant vs. owner responsibilites, including property maintenance and signage regulations, responding with compassion toward the unhoused population, and more. Panelists included Kelly Blechartas, York County Coalition on Homelessness; Steven R. Buffington, City of York; and Robin Shearer, Friends & Neighbors of Pennsylvania.
April: Digital & Social Media Marketing Strategies
The April BLOOM Business Series Webinar: Digital & Social Media Marketing Strategies provided attendees with tips from a panel of digital marketing and social media experts. They learned what they can do right now to improve visibility and audience engagement for your business. Our panelists included Philip Given, President of The Pretzel Company; Will Hanlon, Co-Founder of Our York Media; and Skype Leppo, Social Media Manager for D.G. Yuengling and Son, Inc.
March: Being a Trail Friendly Business
The March BLOOM Business Series Webinar included tips on how your business can capitalize on high-volume trail use by being more welcoming and accommodating to trail users. Panelists included Jessica Brubaker, Keystone Kidspace; Ned Duke, Jr., Freedom Fitness and Training; and Amanda Poulin, Jackson House Bed & Breakfast.
February: Artscapes: Murals & Public Art
The February BLOOM Business Series Webinar included best practices for window painting, murals, and other public art with examples in York City, around York County, and across the Commonwealth with panelists Ophelia Chambliss, Artist/Educator at Oliver Bliss Design, Samantha Pearson, Healthy Communities Program Manager at Pennsylvania Downtown Center, and Rita Whitney, Artist and Director of Communications and Engagement at Cultural Alliance of York County.
January: Leveraging Destination Marketing Tools
The January presentation included information about Destination Marketing efforts from Downtown Inc, Explore York, and the Yorktowne Hotel, and how small businesses of all types could leverage them. Panelists for this webinar included Melissa Beaverson, Director of Destination Marketing at Explore York, Michael Blum, Managing Director at The Yorktowne Hotel, Tapestry Collection by Hilton, and Meagan Given, Executive Director at White Rose Leadership Institute.